When it comes to creative stuff, I like to do many things: I am now mainly a writer for television, but I have written many films, plays, stories, comedy sketches, a novella and a novel. For a living, I teach acting and writing classes at
I.O. Acting & Creative Studio
in Montreal, Canada. I am also a professional actor, a filmmaker, and an avid gamer (mainly D&D). Check my Bio for detailed info.

Currently, I'm working on a number of television pilot projects including Vike, a fantasy-mystery/procedural television series that was a Finalist in the Filmmatic Drama Screenplay Awards and a winner in the WildSound Film Festival Fantasy/Sci-Fi competition for Best TV Pilot; here's an interview I did for that, as well as the prize: a live reading of the opening scene. Vike was also a Semi-Finalist in the 2022 ReelHeART International Film and Screenplay Festival, and in the Fade In Awards Drama Competition.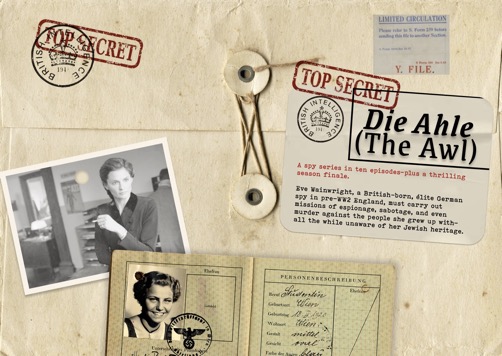 My espionage series, Die Ahle (The Awl), won Best Pilot at the 2023 San Pedro International Film Festival. It features an English-born, German spy in pre-WW2 England who receives orders from the Abwehr (German intelligence) to sabotage and kill in the little Yorkshire town where she grew up. It was also Finalist in the Filmmatic TV Pilot Awards, in the Screenwriters Network Pilot Competition, as well as in the Feel the Reel International Film Festival of Glasgow, and in the Seattle Film Summit.

Also completed is a bilingual serial comedy set in the late-80s about a theatre school in Montreal where debauchery is forbidden, called Dramical (the school is called "Dramécole"—same pronunciation). It won the award for Best Unproduced Short Script at the Montreal Independent Film Festival in 2023.

My first professional TV writing gig is tentatively titled Litsa's World: A Taste of Antiquity; it's a Greek cooking show that traces the mysteries of mythology and how they relate to traditional Greek cuisine.

Lately, I've been working on The Claddagh Ring, a fictionalized account of my grandfather who, in 1950s Montreal, while raising eight children and wheelchair-bound, inadvertently becomes head of the city's Irish mob.

Future projects include 5YTO (Five Years in Toronto), a comedy series about a young man who finishes at a prestigious drama school only to get sucked into Toronto's seedy bar and restaurant scene in the early-2000s.

In 2021, I completed a Master of Arts in Creative Writing with Distinction from Teesside University (UK, distance learning). In 2020 I released Harmony Street, a collection of stories and a novella, purchasable via Amazon:

A number of my prose pieces have been published (online and in print):

Black Dog Review

(poem)

untethered

(print only)

Transition Magazine

(print)

The Fiction Pool

Soft Cartel

(Cult)ure Magazine

Mulberry Fork Review

Urban Graffiti

Foliate Oak
The Anorak
, my solo show about the Montreal Massacre and the life and death of Marc Lépine, has been critically acclaimed, and won the 2007 Montreal English Critics Circle award for Best Text. The play was last performed in December 2019, for the 25th anniversary of the tragedy, with Alex Dubois acting. Previous external productions include the french translation in Quebec City (with Gaetan Rancourt acting), and two UK productions including London, England, Off West End, in July 2014, with Felix Brunger in the main role, directed by Matthew Gould. The play will appear at the 2022 Edinburgh Fringe Festival by No Frills Theatre Company of Kent, England, with Andrew Hogarth directing and Finn McGee acting.

I have made several films that were Official Selections in international festivals, and have won awards. Check out
Ack, No Ledge Films
for details. My latest is a film version of
The Anorak,
completed in Spring, 2021, named Finalist in the 2021 SoCal (Southern California) Film Awards, and an Official Selection of the Docs Without Borders International Film Festival in Delaware, USA. Past film collaborations include working with
Denis Villeneuve
(on
Polytechnique)
,
Rakeen Saad
(on
Foreign Language
),
Elizabeth Anne
(on
Bridges Over Montreal
) and
Elias C. Varoutsos
and
Chris Alsop
(on
Montreal Hearts
).


Based in Montreal, I am married to a gorgeous wife, and we have four young children. Life is crazy.

Please check back regularly for updates, and feel free to
contact
me with feedback.

Thanks for stopping by.